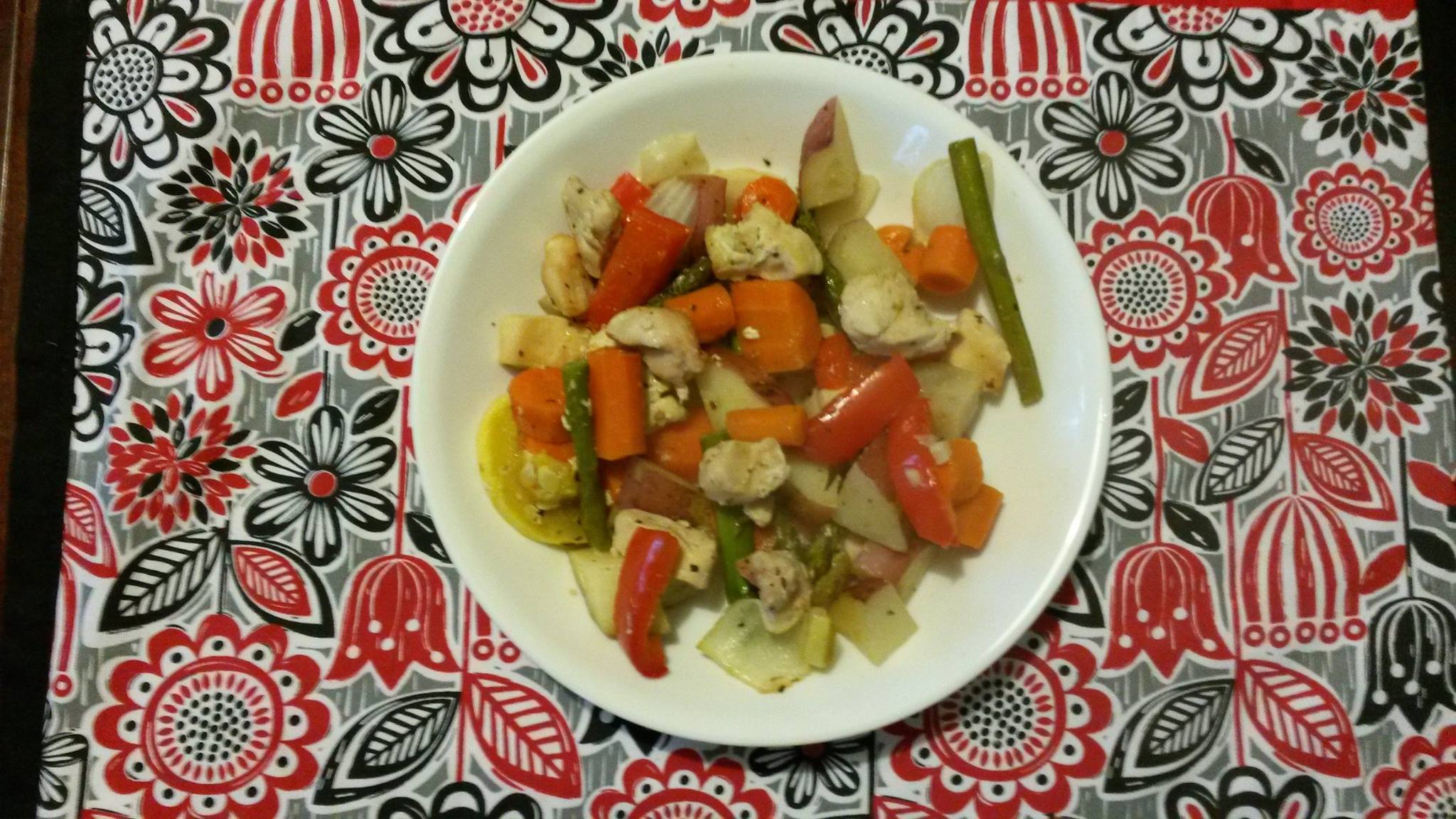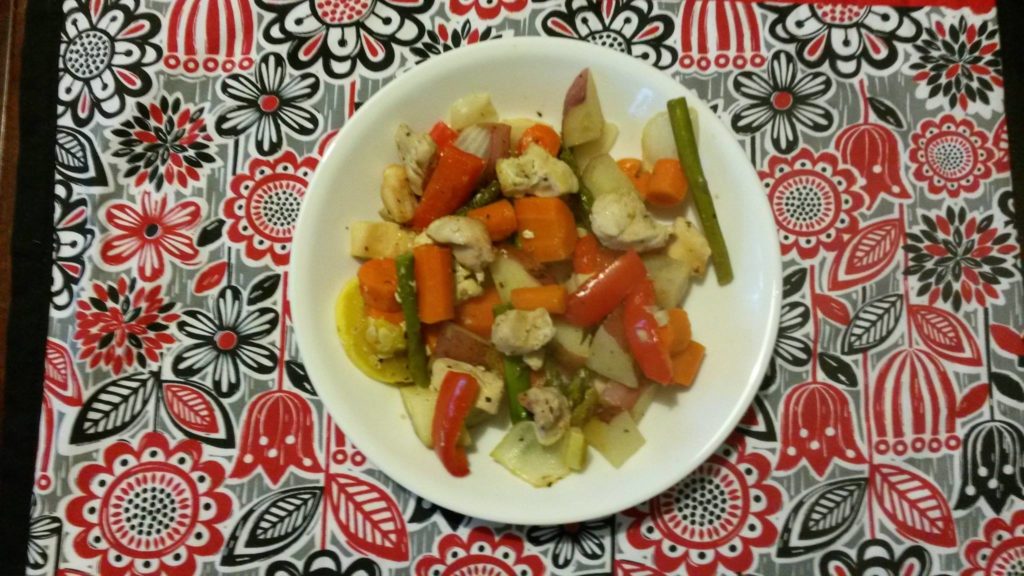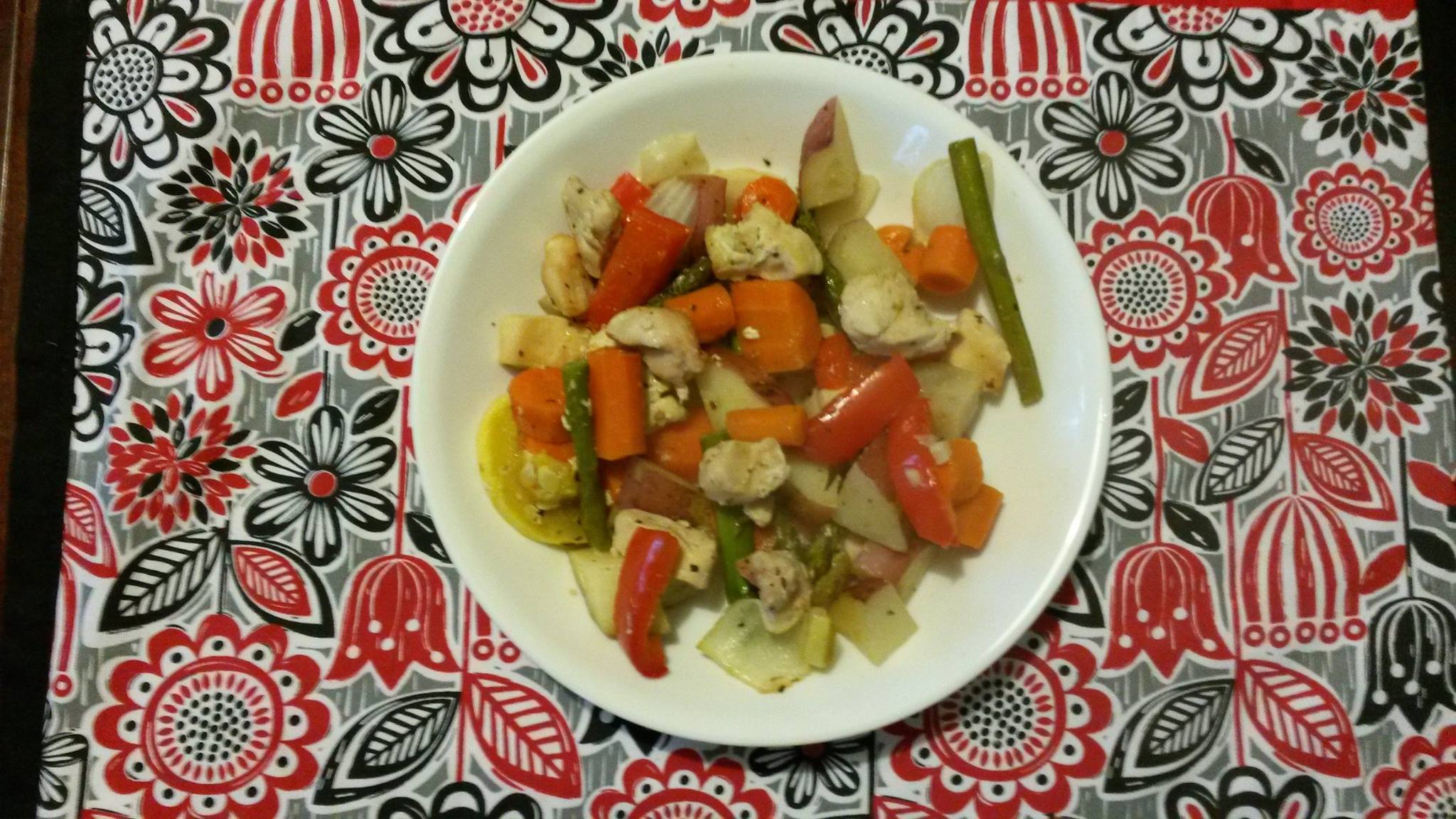 You ever find yourself with a fridge full of veggies about to go bad? Yeah, me too. Don't worry, though. We can take care of that with this one thrown-together meal…
Not sure what I would call it – Chicken Veggie Casserole? Umm Chicken Veggie Medley? How about Chicken Veggie Scrumptiousness? I like that. Let's go with that.

Chicken Veggie Scrumptiousness
(Please note that I ALWAYS overcook – This will provide lunches for the hubs and I throughout the week, usually. Therefore, keep in mind to scale back the amounts of some of these, as my amounts are based on more than just one meal)

(Suggested) Ingredients
4 boneless, skinless chicken breast, cubed

5 medium size red potatoes, cubed – You can use sweet potatoes, too!

1 medium yellow onion, sliced

1 red (or whatever color you choose) bell pepper, sliced

1 pound bag of carrots (I ALWAYS do extra carrots – LOVE them), sliced

1 yellow (or green zucchini) squash, sliced

1/2 a bunch of asparagus, sliced (I cut mine twice – 3 pieces)

3 cloves of garlic, minced

thyme, rosemary, basil, pepper

1/2 to 1 cup organic, low sodium chicken broth

olive or coconut oil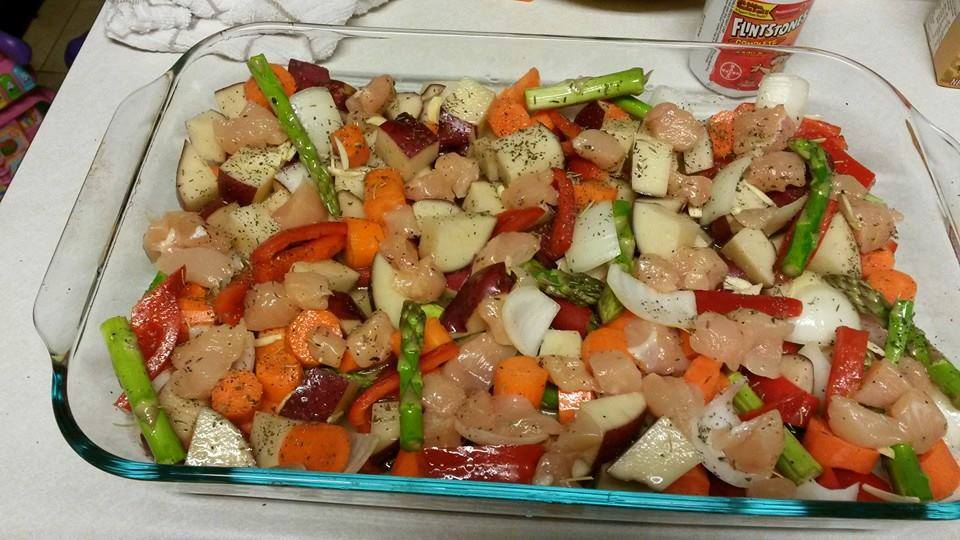 Directions

Preheat Oven to 425.
Keep carrots and potatoes separate from other veggies. Take all other veggies and garlic and toss in about 2 tablespoons olive or coconut oil. Also toss carrots, potatoes, and chicken in oil, separately.
Pour chicken broth into casserole/Pyrex dish, and dump the chicken, potatoes, and carrots in. Sprinkle seasonings to your taste.
Bake this for about 40 minutes. Remove from oven, toss, and add remaining veggies (this separation allows the carrots and potatoes to cook fully but not to overcook your softer veggies). Season again if desired.
Place back in oven and bake for an additional 20 minutes (may take longer depending on size of your veggies and your desired veggie texture).
EAT! ENJOY! VEEEEEEEGGIES!
Feel free to share one of your favorite "thrown together" meals