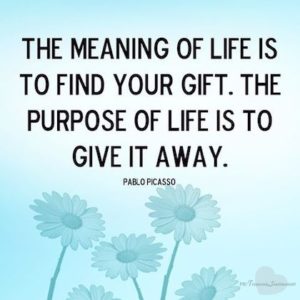 Giving back and being a part of something bigger is very important to me. When I started this journey, I knew I wanted to be able to make a profit doing something I love, but I also knew I just wanted to be able to create, get my work out there into the world, and inspire others to do the same. I wasn't entirely sure how to tie this business and hobby into my desire to give and add value to others' lives, but I've been pleasantly surprised with the opportunities I've found thus far. I do have big visions for what I want to do with this little dream of mine, and I'm learning as I go.
Here are some of the ways I've been working to utilize my talents in a way that benefits others and causes that are near and dear to my heart. If you know of any other opportunities, please send them way!
Painting with a Purpose
My Painting with a Purpose initiative is a way to give back to organizations and causes that mean something to me. As often as possible, which will hopefully be each month, I will create a collection of pieces geared toward bringing awareness to various movements, organizations, and the like.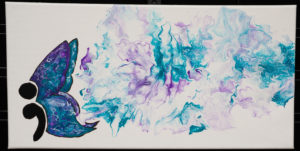 September was National Suicide Prevention Awareness Month. This piece, titled "New Day" was my favorite piece from that collection. A total of $80.00 has been donated so far to The National Center for Suicide Prevention.
100% of the proceeds for any of these items purchased will be donated to an organization either pre-determined and selected by me, or with "buyer's option." I know that every individual has their own beliefs about various charities/organizations and which ones they would prefer to support, so I wanted to offer the option for them to decide. I will, of course, provide receipt proof to the buyer that their donation was made.
I know this is a small effort, but it is an effort. While finding a way to support these wonderful organizations in a monetary way, I would also like to think that the art I create and pour my heart into would speak to someone who perhaps has struggled, is a survivor, or even just an advocate themselves.
All products that have been created for this initiative will be titled "Painting with a Purpose" and are located in my acrylic pour shop as well as its own designated shop, located here.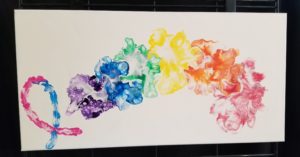 October is both Pregnancy & Infant Loss and Domestic Violence Awareness month. I gifted this piece, "Tomorrow's Promise," to a dear friend of mine who has suffered loss and was later blessed with her rainbow baby.
March is Brain Injury Awareness month, which in recent years has become notable to my family. In 2013, my brother fell from a two-story balcony and suffered a severe traumatic brain injury. It is truly a miracle that he survived and has still lived a fulfilling life since. The color for brain injury awareness is green, so I will be incorporating that into several new pieces for March's mission. Follow me on Facebook to see sneak peeks before items hit the shop.
I always love to hear what causes everyone else supports and believes in. If you have any suggestions for a collection that I should create, or an organization/non-profit you'd like to see supported, please drop them in the comments below!
5X5 Art Show Benefiting the National Center for Missing & Exploited Children
I get annoyed just as much as the next person with the countless number of targeted ads in my Facebook feed. But I'm here to tell you it's not all bad! Now that I follow so many art related pages, and am always marking myself "interested" in causes and events that mean something to me, the algorithms in place actually lead to meaningful targeted suggestions sometimes. I was so excited to see this event come up during my mindless scrolling, and immediately reached out.
I will be donating these five cute little pieces of artwork, which will be available for purchase to attendees and all of the proceeds go to the Texas office for the National Center for Missing and Exploited Children. To learn more, click here.

Bree's Gift Sunflower Festival
Bree's Gift is a nonprofit organization in Missouri (my home state) dedicated to giving the gift of a child to families looking to adopt. Their goal is to fully fund the adoption of AT LEAST one child each year. To achieve this goal, they're working closely with Divine Nest, a local organization that equips homes and families with resources, emotional support and education to help give children the chance to be children; to be part of a family; and to live up to their full potential. With their support and that of people like you and me, Bree's Gift can help families properly navigate the adoption process.
Bree's Gift has organized a Sunflower Festival fundraiser to assist in them in their mission. The event will include a Sunflower Shop for attendees to browse and purchase a variety of sunflower related goods and gifts to benefit their cause and help fund adoption for families.
I have the absolute honor to donate some of my favorite work as well as create some exclusive pieces for this incredible event. If you feel called to do so, please read Bree's Story and learn more about her, this lovely family, and how you can contribute to this beautiful, life-changing cause.
Pronoun Accessories – Need one, take one
You'll never catch me claiming I'm perfect in my allyship, that I know it all, won't make mistakes, or that I'll always get it right. But I promise that I will always correct myself, admit when I've gotten it wrong, and will always make an effort to learn and continue to educate myself (know better, do better, be better). I promise that I will take whatever steps I can, no matter how small, to make you feel seen and heard. To make you feel loved and respected. Everyone deserves to be loved for who they are. If you need a little something to express just who that is, then these are for you!
While these hand-painted accessories are not listed as an option on the website (yet), if you would like to add one to your order, please email me or make a note in your order. These will always be FREE of charge with a limit of 5. For larger, bulk orders, I may need to charge a small fee whether for cost or shipping. My goal is not to profit off of this endeavor, with the understanding that time and money do certainly go into this and I am not yet a profitable business – Almost all money earned goes right back in. So, off-setting the cost or shipping that comes out my everyday-bill-paying pocket may be necessary in some cases. I will never charge for my time/labor.
Pronoun accessories available at this time include: Keychains, pins and alligator clips. The only patterns I keep in stock are rainbow and the pink/blue/white combo. If my bandwidth allows and depending on complexity, I may consider other colors if interested. If you don't see your preferred pronouns, please let me know! I'm happy to customize these accessories to fit your needs.